A lot of people don't know this... (and I myself just figured it out)
For any individual alloy or steel wheel, ET and Offset both have the same meaning and value. The term ET originates from the German word 'Einpresstiefe' which translates as 'insertion depth'.
A:The distance between the rim's center line and its
mounting surface. From the picture below it should be
obvious why it's important to retain proper offset when
you change rims: tire not centered properly affecting
drivability (negative roll radius changes), bearing load,
rubbing on the struts or wheel arches, etc.
Cross sectional view of a rim: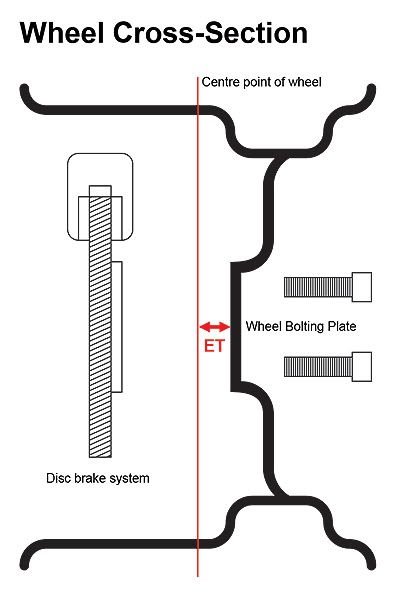 Basic rule of thumb:
- Higher offset (ET50 for example), wheels sit closer to car, have chance of hitting brake and suspension components
- Lower offset (ET10 for example), wheels sits further out from car, lots of room for components but may poke past fender or impact fender on dips and bumps
There's more fitment than just offset... If you're running(for example) a 6.5" wide rim with ET 40, it will not clear the same as a 8" wide rim with ET 40..
ET is a hard measurement, not a %age.
For example, how much wheel will overhang towards the body from the mating surface:
6.5"/2 = 3.25" + 1.6"(roughly 40mm) = 4.85"
8"/2 = 4" + 1.6" = 5.6"
and for the section of wheel outwards of the mating surface:
6.5"/2 = 3.25" - 1.6" = 1.65"
8"/2 = 4" - 1.6" = 2.4"
In both cases you have an ET 40 wheel, but the 8" rim will be MUCH closer to the suspension components and body, and it will also poke out more. Just because the offset is the same, doesn't guarantee anything when going wider.